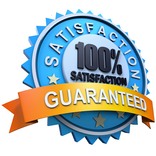 No small print, no retention for administration fees and no charges for batteries, wax filters or domes used.
We want you to purchase hearing aids with absolute confidence, so we offer a full money back guarantee in writing with all our order documentation. If you think that your new hearing system is not helping you to hear as clearly as expected, you may return it to us for a full refund.
We listen to our clients and take a great deal of care to ensure that all hearing systems provided are suitable for the type and degree of hearing loss plus the user's personal listening environments and areas of difficulty, so happily refunds are rare.
60 day moneyback guarantee of satisfaction with every hearing aid purchased