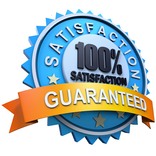 We want you to be delighted with your hearing aid purchase and we try to make your purchasing decision as simple and worry free as possible.
For your peace of mind we offer a full 60 day money back hearing aid return system. If you feel that your new hearing aids are not providing the benefit that you expected (or that you have simply changed your mind); they can be returned to us for a refund of the full purchase price.
We closely match you hearing aids to your loss and personal circumstances from a range of six top UK manufacturers. At the hearing test we provide appropriate advice about the benefits that can be expected from the devices that we propose to dispense.
This attention to detail means that cancellations are rare. However should you be unhappy with your hearing aid purchase and choose to return the goods then all monies paid will be returned to you without retention for administrative charges or other arbitrary losses.
Pay by debit or credit card and the money back guarantee will be enshrined in your purchase documentation and backed by your card issuer who in turn is backed by the UK government.
We believe that you cannot make a safer purchase and stand only to benefit from new hearing aids.

Our prices include your hearing test and subsequent fitting plus professional services free for the lifetime of your new hearing aid.

Every hearing aid dispensed is covered by a manufacturer's product warranty; the period covered will be a minimum of two years. NB it will still be necessary to insure the hearing aid against loss or accidental damage.

The prices shown include all models for a particular range of hearing aids. Choose from invisible styles to the latest miniature receiver in the canal technology. The price will be the same.
60 Day Money Back Guarantee